See that winning video right here!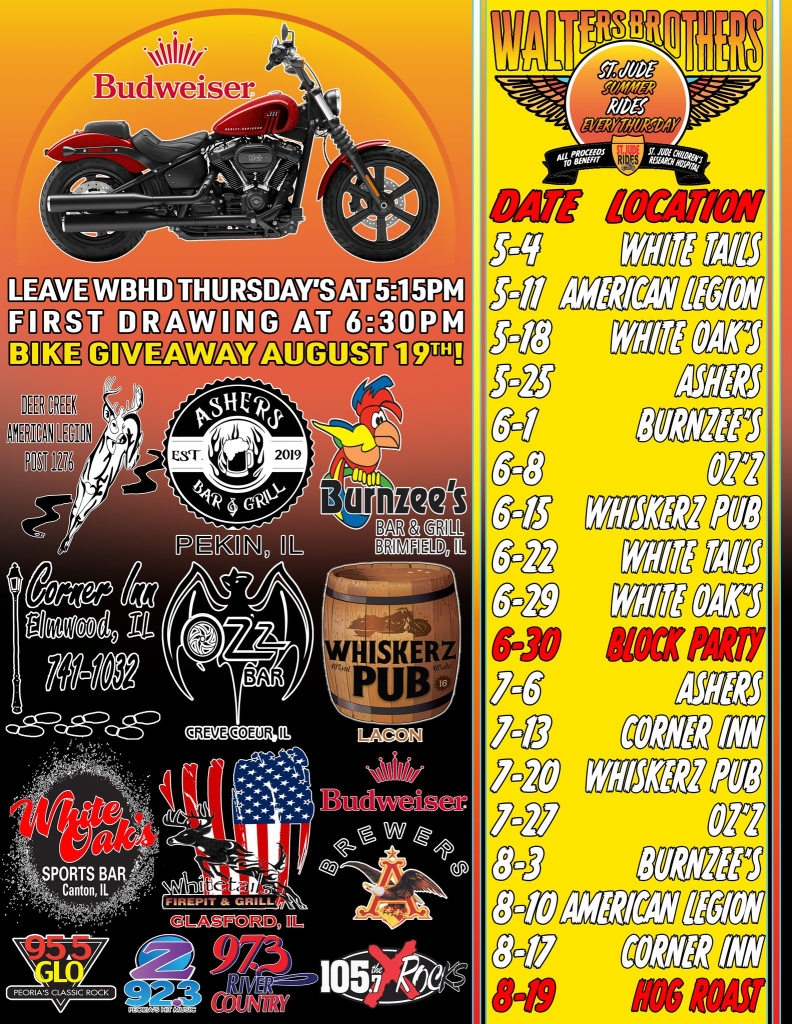 Walters Brothers Harley-Davidson is ready to get you out of the house and onto your Harley!
Last year we raised over $901,764, making Walters Brothers 16 year total $9.4 million during our St. Jude Summer Rides! We'd like to thank last years locations, and we're excited to announce this years locations, that we'll post in February! We'll head out every Thursday starting May 19th thru August 20th! Just jump on your Bike and join the fun each Thursday! Meet up at Walter's Brothers Harley Davidson to various locations! once again we raise thousands for St. Jude Children's Hospital, someone will win a brand new Harley Davidson. And your chance to bid on one of a kind Country music items from big names!
Each week Walter's Brothers draws one qualifier before the ride takes off, and then, you can enjoy a backroads beautiful ride to that week's destination each Thursday! Three qualifiers will be drawn by Walter's Brothers Harley Davidson each week at each stop, every fifteen minutes!
You could win that beautiful Harley Davidson bike this Summer! Enjoy raffles, great food and drinks at each week's destination for the St. Jude Summer Rides! And, don't forget to stop in and check out a new generation of Harley's – from the King of the Baggers National Championship Beast – the 131 cubic inch Milwaukee Eight, to the ADVENTURE Dual Sport Champ, the 151 horsepower Pan America, or the All new Sportster Models! Walters Brothers is your one stop for everything HD! Walters Brothers St Jude Summer Rides benefits the kids of St Jude Children's Hospital and you can be a part of it! Walters Brothers Harley-Davidson, giving you a reason to Ride all summer long!
Ride out to the Spring Open House! Check out the 2022 Harley-Davidson motorcycles – including the ALL NEW award winning PanAmerica Adventure Touring Motorcycle that's taken the Motorcycle World by STORM! Want more traditional power?
Check out the all-new 131 Cubic Inch Liquid Cooled Milwaukee Eight!Grab a Free Lunch and get your HD shopping FIX with 15% off Licensed Product and up to 75% off end of season motorclothes! The Hottest new H-D® gear and genuine motor parts and accessories are right here at your Hometown Harley Dealer.
It's the Walters Brothers Harley-Davidson Spring Open House, Saturday March 26th! Walters Brothers Harley-Davidson, giving you a reason to Ride all Summer Long!