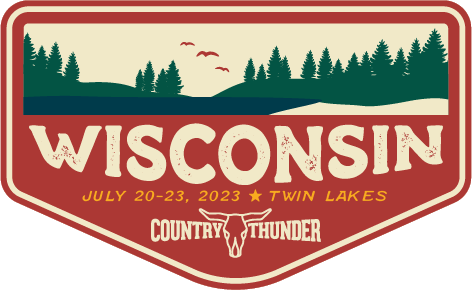 Country Thunder returns to Twin Lakes, Wisconsin this July and we want to get you there. We will hook someone up with 4-day, weekend general admission passes…and one lucky winner will score 2 Tito's Platinum Experience passes plus a camping spot. Performing this year will be Cody Johnson, Jon Pardi, Jason Aldean, Keith Urban, and more. Over 20 different artists will perform. Enter the keyword "LUCKY" now at 973RiverCountry.com if you're a member of the Country Club. If not, sign up today. It's free to join.
COUNTRY THUNDER WISCONSIN 2023 (JULY 20-23, 2023)
EMBARGOED PRESS RELEASE –
COUNTRY THUNDER WISCONSIN COMES ROARING BACK TO TWIN LAKES: COUNTRY MUSIC
SUPERSTARS KEITH URBAN, JASON ALDEAN, CODY JOHNSON, AND JON PARDI ANNOUNCED AS 2023
HEADLINERS

Following July 's epic four-day throwdown in Twin Lakes, Country Thunder Wisconsin will return with a
jam-packed, all-star lineup featuring Keith Urban, Jason Aldean, Cody Johnson, Jon Pardi, & so many more.
The show returns next July 20th to 23rd, 2023.
"The best fans in the world showed up for us in a massive way in 2022, and for that, we owe them a party
they won't soon forget in 2023," says Country Thunder Music Festivals CEO, Troy Vollhoffer. "Cody
Johnson and Jon Pardi are artists we get asked for all the time, so we're excited to bring them to Twin
Lakes. And there's no question Jason Aldean & Keith Urban will bring the electricity to the party of the
summer. We have one of the best lineups from start to finish we've had in years, and we cannot wait for
summertime!"
Keith Urban, two-time CMA Entertainer of the Year, has spent the better part of his life harnessing a deepseated
passion for music. This, when combined with his authenticity, talent and driving musical
inquisitiveness, helps to understand why he is one of the most successful and well-respected artists in the
world. He's won four GRAMMY© Awards, thirteen CMAs, fifteen ACMs, three AMAs, two People's Choice
Awards and celebrated nine consecutive gold, platinum or multi-platinum albums. His concerts have
become legendary – as unpredictable as they are explosive.
Multi-Platinum entertainer Jason Aldean has bolstered 27 No. One hits, 15 billion streams and has sold
more than 20 million albums. Notably, seven of Aldean's previous studio albums have been certified
PLATINUM or more and he has the most Top 10 song on Billboard's Hot Country Songs chart, more than
any other artists, since making his chart debut in 2005. With a catalogue this powerful, Aldean will bring
a show that won't soon be forgotten to Twin Lakes!
Country superstar, Cody Johnson, joins the party fresh off his 2022 CMA wins for Music Video of the Year
& Single of the Year and leading the country genre nominations at the upcoming American Music Awards.
With his two-week number one single, "Till You Can't", sold out shows across the country, and four billion
streams, Johnson has given country music just a little taste of what his loyal fanbase, CoJo Nation was
already on to, and we can't wait to join the club!
CMA and ACM winning Singer/songwriter/producer Jon Pardi, has earned numerous #1 singles, including
"Head Over Boots," "Dirt On My Boots," "Heartache on the Dancefloor," "Heartache Medication," and
more. His album, Heartache Medication, solidified Jon Pardi's place as country music's neo-traditionalist
icon, with a refined and defined country sound that's long on punch, and power. Jon's latest criticallyacclaimed
album Mr. Saturday Night featuring his hit #1 single, "Last Night Lonely" and the CMA
nominated hit "Longneck Way To Go" was released in September. No doubt Pardi will bring the Party in
2023!
The stellar, four-day music extravaganza also includes Carly Pearce & Ashley McBryde, who are both
carrying hardware from their recent CMA win for Vocal Event of the Year, Chase Matthew, Parmalee,
Lonestar, Priscilla Block, Frank Ray, The Reklaws, Hailey Whitters, Shane Profitt, Mackenzie Carpenter,
Josh Ross, & John Morgan. With many more to be announced in the weeks to come!
Four-day passes, Platinum Experience, Reserved Seats, Camping and all the extras are available now at
CountryThunder.com or by phone at 1-866-388-0007.
For more information, visit countrythunder.com and follow on Facebook at Country Thunder Wisconsin,
Instagram at @countrythunder.wisconsin and Twitter at @countrythunder.
The Country Thunder Music Festivals organization has a 19-year history which boasts five other major
multi-day events in North America, including Arizona, Saskatchewan, Alberta, Bristol, and Florida.