Meet Joey! Brian's best friend/cat, they met each other 4 years ago at PCAPS when Joey lost his humans.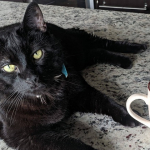 And now Brian is so busy on the air that he has decided to let Joey P. Catsworth pick a new set of pets that need new furever homes every week! Check out these lovable poofs of fur this week!
Contact PCAPS here to find out about these, or others!
Pocahontas is a beautiful 11 month old spayed female tortie.  She is just a big furry ball of love.  She will follow you around the cat room and rub all over your legs.  She can be chatty when she wants something but mostly it is your love she wants.  Her adoption fee is $75 this includes her first round of shots.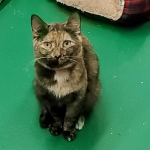 Meet Gemma she is a doll.  She is a 2 year old boxer female boxer and if you know how boxers are she fits it to a T.  She wiggles her butt and can almost touch her butt to her shoulder with her wiggle.  She is shy at first but once she warms up to you she plays and just wants all of you love.  She needs some basic training but she is smart so will learn fast.  Her adoption fee is $100 which includes all her first round of vaccinations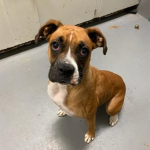 This gorgeous boy is Apollo he is a 1 yr. old male Pit Maybe Hound mix. He's a little shy at first, just getting used to everything, but after a bit, he really started warming up and playing. This will be a great, fun, loving boy when given a few weeks to settle in with his new family.  His adoption fee is $100 this includes all his first round of vaccinations.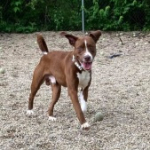 Junebug is a silly but sweet kitty.  She is around a 1 yr old domestic medium haired gray cat.  She loves to play with all the toys she can in the cat room and when she is tired she snuggles up to the other cats.  She does have some sass in her and she is very active but loves to follow you around the cat room.  Her adoption fee is $75 this includes all her first round of vaccinations